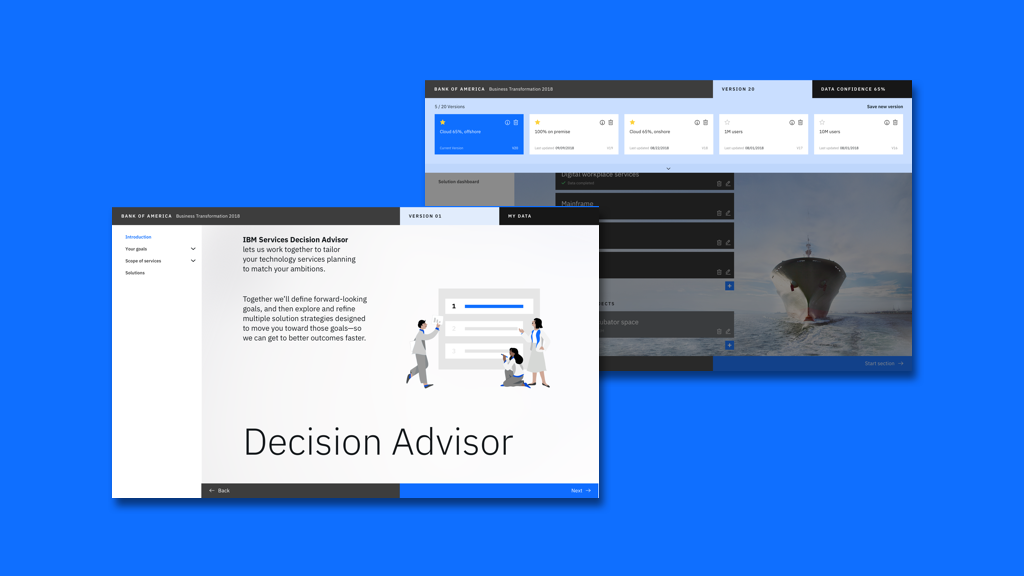 IBM Decision Advisor Web App
Transforming the way sales executives collaborate with existing and prospective clients.
Project: Product Design, Sketching, Prototyping
Team: Leonor Torres, Turner Vickery, Mackenzie Wyatt, and Jacqueline Yeung
Background: Business leaders are tasked with making IT planning decisions at increasingly higher speeds. The swift rate at 
which technology evolves and the accelerated pace of change within the competitive landscape demand that 
businesses adopt a flexible and agile technology strategy in order to remain relevant in the marketplace. 
Many of the inherently complex technology sourcing decisions are governed through a formal Request for 
Proposal (RFP) procurement process. The RFP process utilizes a thoughtful and iterative method which 
generally arrives at a positive outcome, but often requires a significant amount of work and time to complete.
The result of this time-consuming and labor-intensive process sometimes leaves our clients with a technology 
strategy which is outdated, before it has even been implemented.
​​​​​​​
Project Goal: IBM intends to reshape the way our clients make complex technology sourcing decisions - helping them get to better outcomes faster through the development of the IBM Advisor Platform: 
IBM Decision Advisor utilizes an interactive platform to help decision makers define clear, forward-looking objectives, and then quickly explore and compare multiple IT services strategies specifically tailored to support those objectives.
My Role: I am a User Experience (UX) Designer on the GTS Design team working on the IBM Decision Advisor platform. I specialize in interpreting and synthesizing research and requirements to craft meaningful products and experiences that meet the user needs. I anticipate, communicate, and influence what the user will see, hear, or touch within a given prototype solution. It's not simply understanding all user touchpoints and detailing the potential outcomes, it is about creating experiences and solutions that are valuable, effortless, and enjoyable and successfully communicating those intentions to the business team and technical teams. I communicate the intended experience through the delivery of artifacts such as concept maps and models, storyboards, wireframes, pattern libraries, workflows, UI design, and guidelines. I work directly with the Senior UX and UI Designers and report to the Creative Director.
Below are a few of the features and experiences I have specifically worked on for the Decision Advisor platform.
Feature Context: The IBM Technical Seller will be able to upload and view the client's baseline data, so that Decision Advisor can calculate assumed values for any missing data and pre-populate primary and secondary baselines for the co-creation session. 
Feature Value: Collecting the client's baseline data before starting the co-creation session is pivotal because that data helps Decision Advisor propose a more fitting solution for the client's business; knowing more about the client's business allows a better set up for Decision Advisor to recommend a solution. Therefore, to enable this to happen, the ability to upload client data is needed. 
Ideation: The Senior UX Designer and I started by brainstorming ideas on where the data upload feature should be accessible on the platform. In addition, we had to think about how the data upload experience would affect the rest of the experience across the platform.
Wireframing: After taking the time to map out the data upload experience across the platform, I created medium-fidelity wireframes of the data upload experience, specifically in the 'Opportunity Creation' portion of the platform.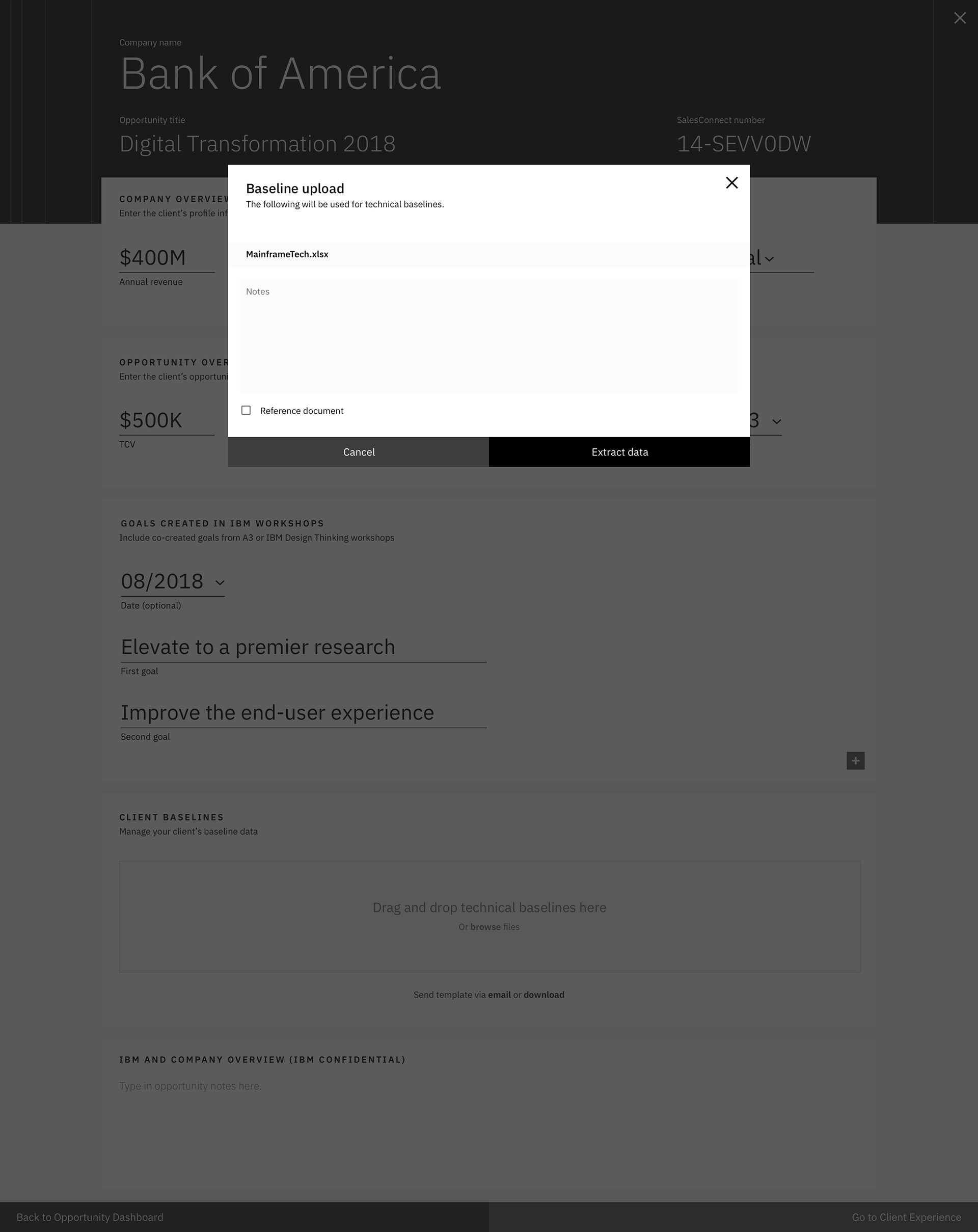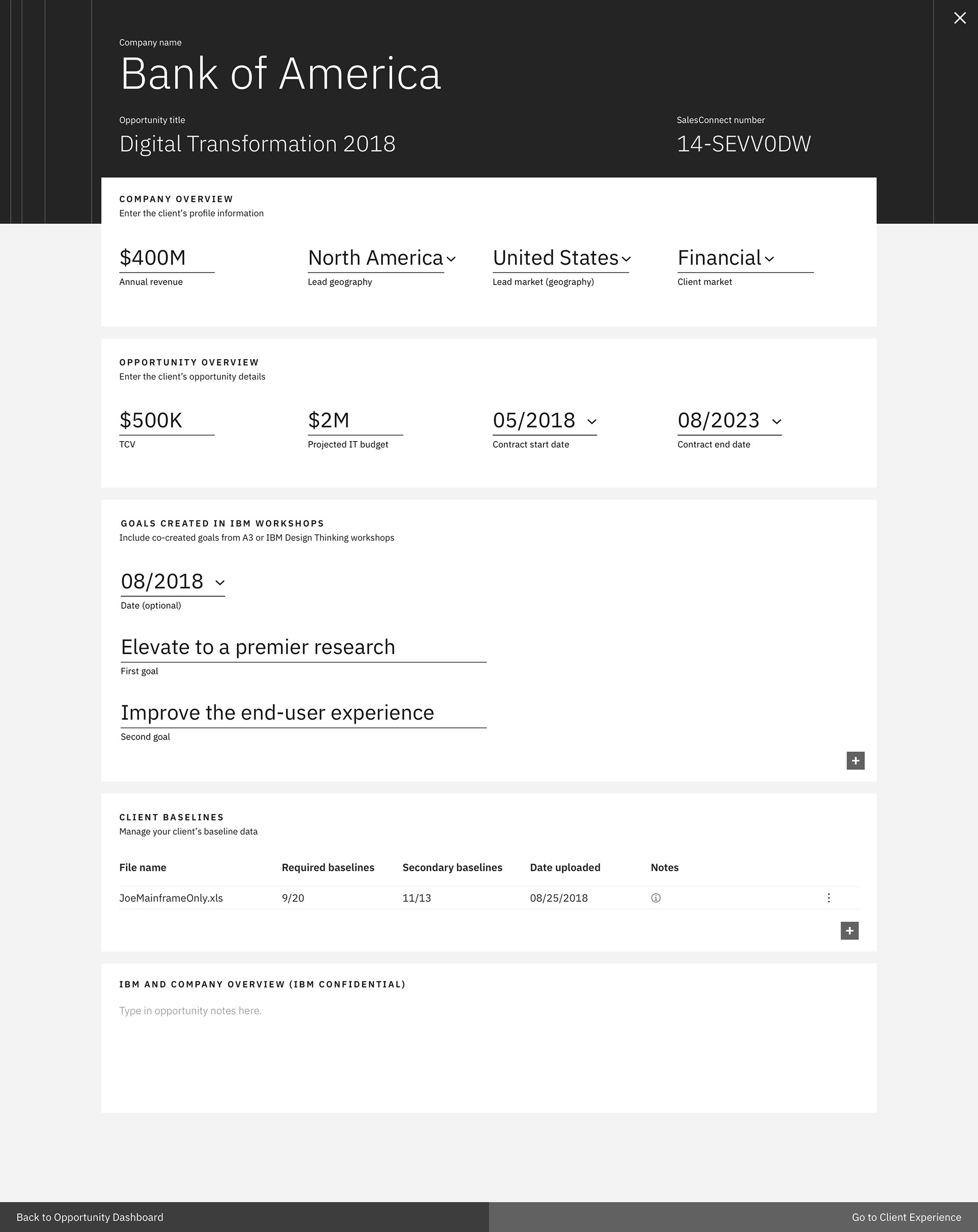 Feature Context: When the  IBM Technical Seller shows Decision Advisor to a client, they will be able to create different versions for each client opportunity, so that they can explore different ways to meet the client's goals.
Feature Value: 
Within the "Versions" expandable tile the user is able to see all the versions of this opportunity that he/she created. The data that can be changed from version to version includes: Goals, Services, Scope and Baselines. Auto-save feature is included for all active sessions. An automatically saved version with a generic title including version number is generated. 
Inspiration: The goal was for versions to be easily accessible and for information on the different versions to be seen at a glance. One specific exploration that stood out was the way Invision approaches switching between pages in a specific project.
Ideation: With this inspiration in mind, the Senior UX Designer and I worked together to come up with some iterations of what the version control could look like for Decision Advisor.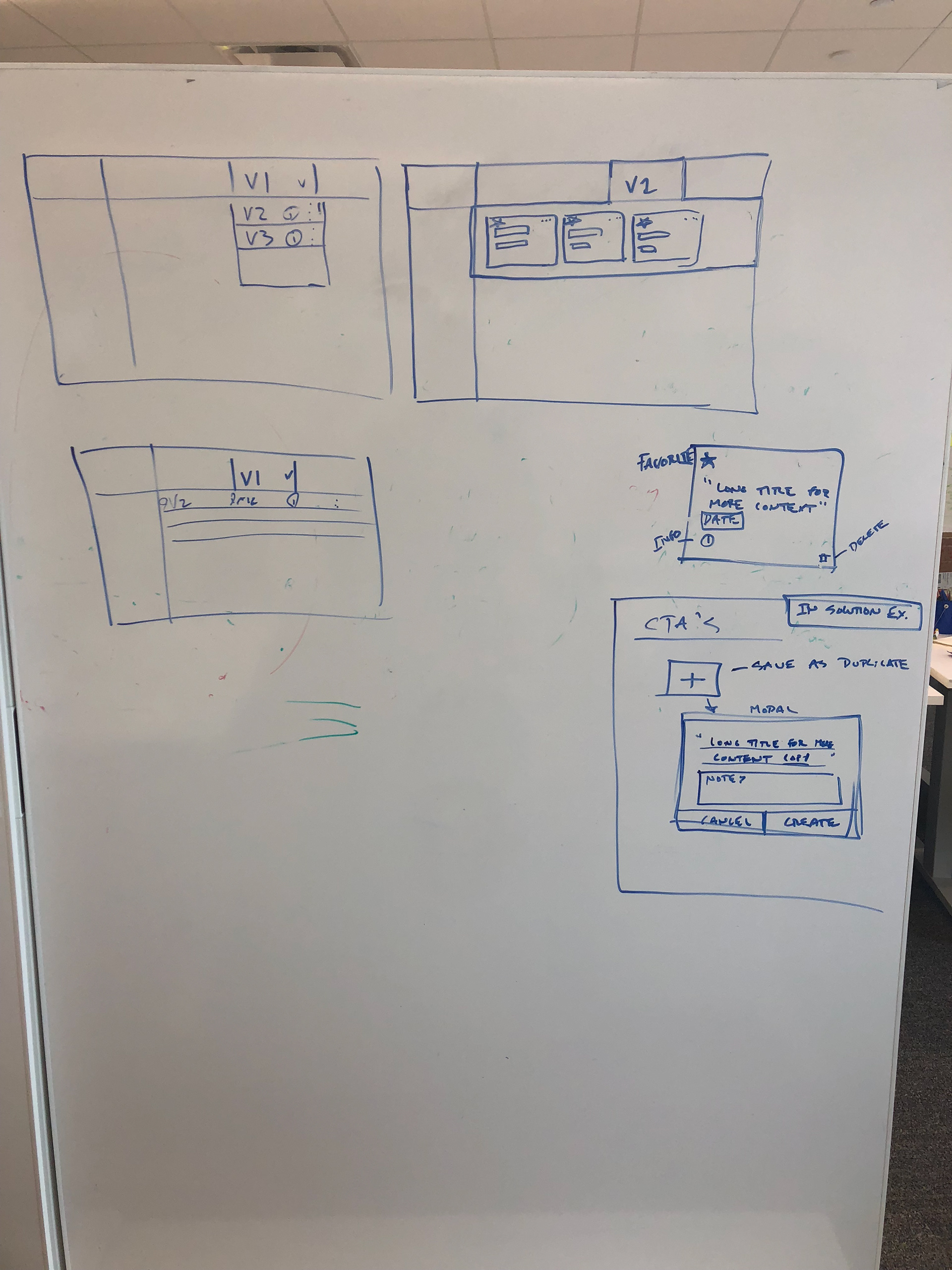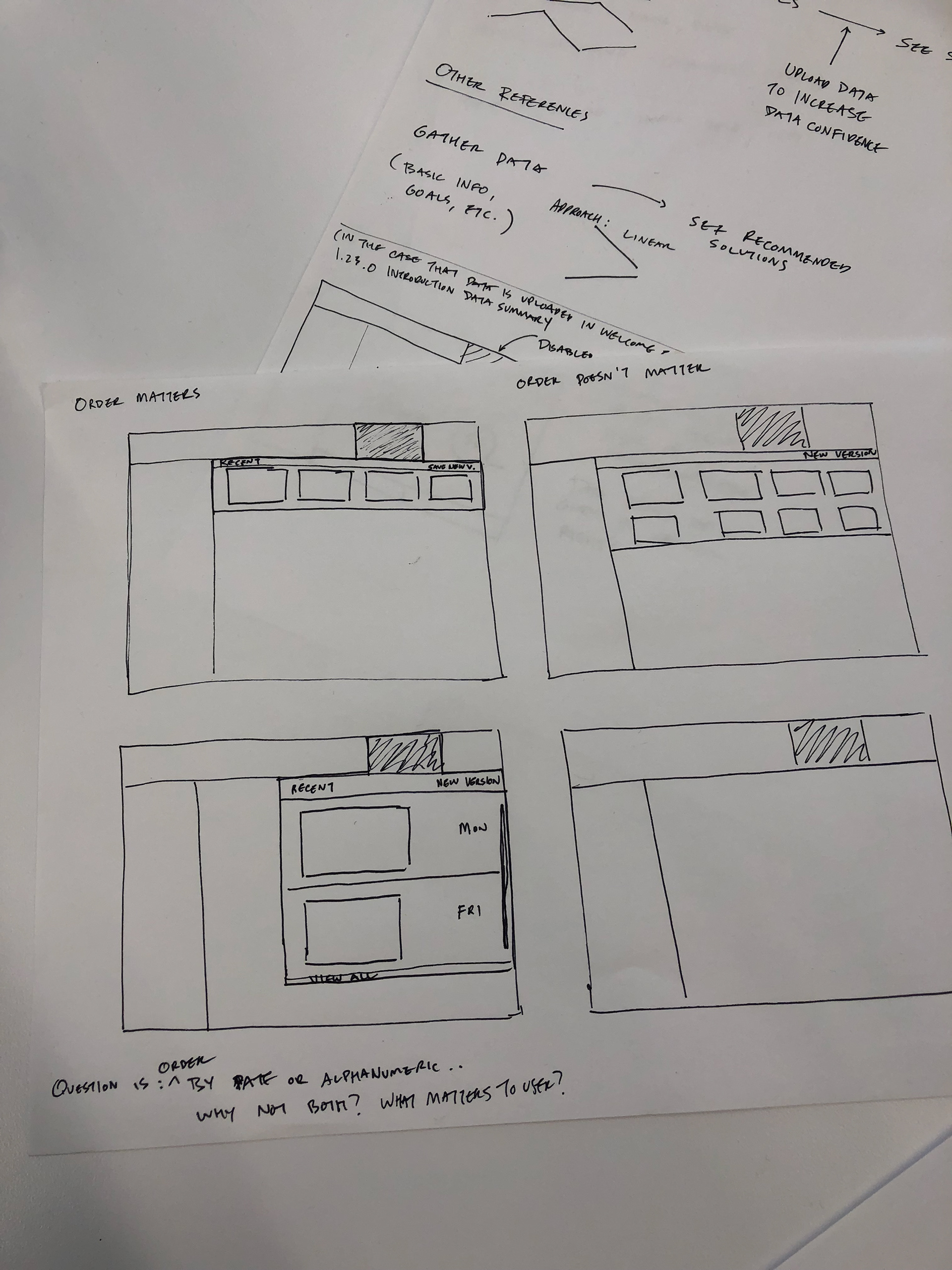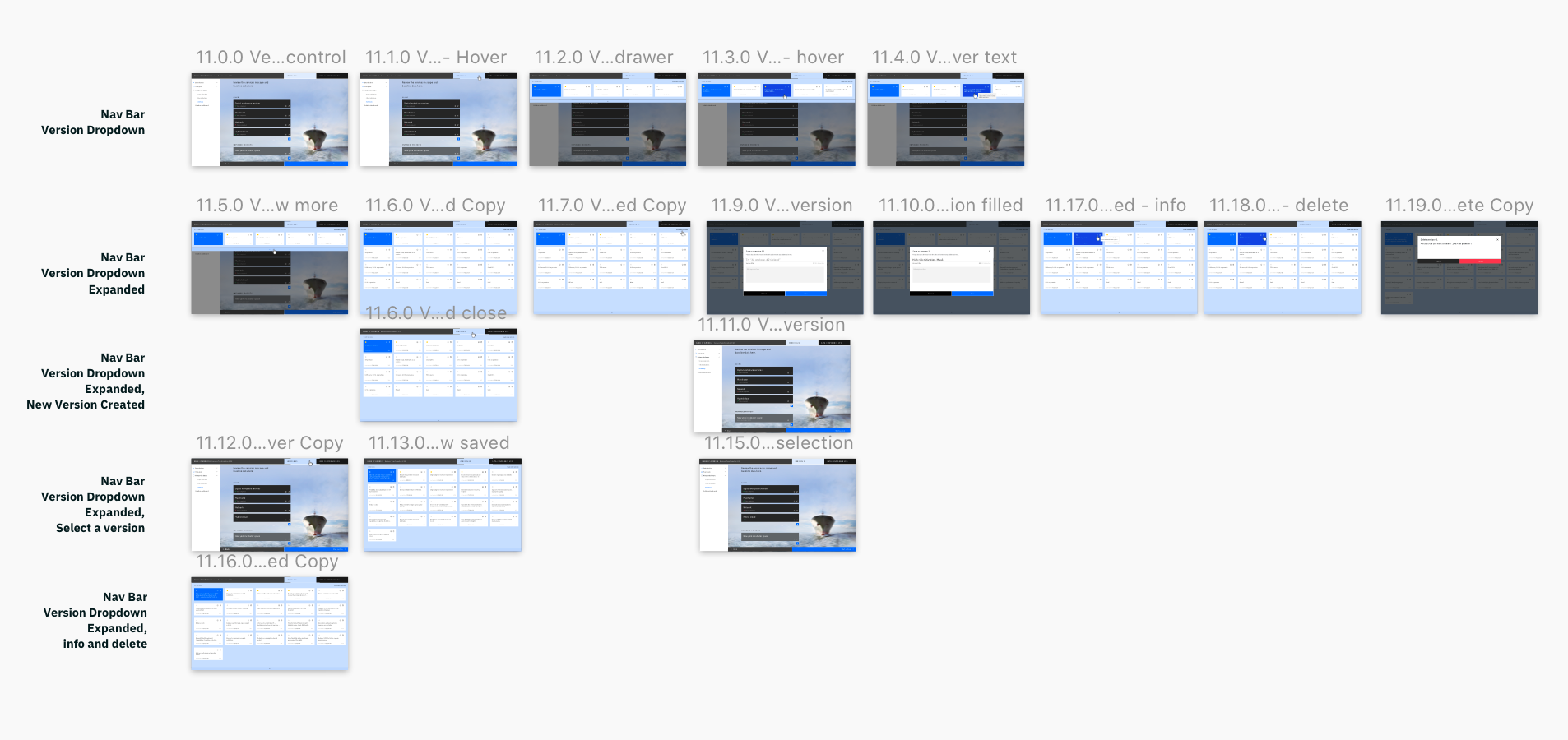 What I Have Worked On: Besides the Data Upload and Version Control experiences, I have worked on several other features during my time at GTS Design. To name a few, I have worked with the team to create the Configuration experience and Solution experience as well. 
What I Am Working On Now: Currently, we are building out the Solution Report which is essentially a "receipt" after the user has gone through the whole Decision Advisor experience beginning to end and has come down to a customized solution for their business. 
In addition to this, I am working with the Senior UX and UI Designers to create a master file for all our designs which will allow us to work with more efficiency as we continue work through each sprint. A problem that we have faced along the way is that while we are in the middle of a sprint, all of us are working on different features of the app and with that, we are working on different Sketch files which ultimately leads to a lot of confusion when we come together and try to find a specific screen in a specific file. Our solution to this was to create a master Sketch file which will allow us all to work from one Sketch file that will contain all of the features and a more uniform way to work together.
The IBM GTS Design team follows IBM Design branding guidelines, thus, we used the Carbon Design System (www.carbondesignsystem.com) to inform our design decisions across the Decision Advisor platform.