Making timesheets easy again.
Phase:

Discovery & Define
Employees at R/GA love Reporter. But they don't love doing timesheets. And yet, timesheets are critical to our business. 
There seem to be too many barriers and they are just plain time consuming: 
- Time must be entered on an R/GA issued computer, directly into Reporter
- Employees spend time looking at their allocations, back at their timesheets and then at their calendars
- There is no incentive for doing timesheets
Create a mobile solution for users to enter time.
- Launch the solution Q4 2019
- Make timesheets easier and simpler
- Allow people to enter time while away from the office of their R/GA computer
- Reduce the negative stigma around completing timesheets
Previous Design Explorations
In June 2019, the Reporter team designed and prototyped a simpler mobile experience. The goals were similar but this project was specifically focused on the goal of user testing with R/GAers in order to refine the best-possible mobile timesheets experience.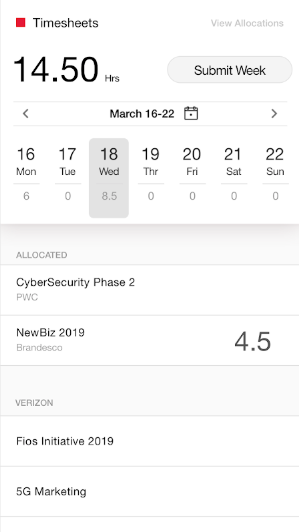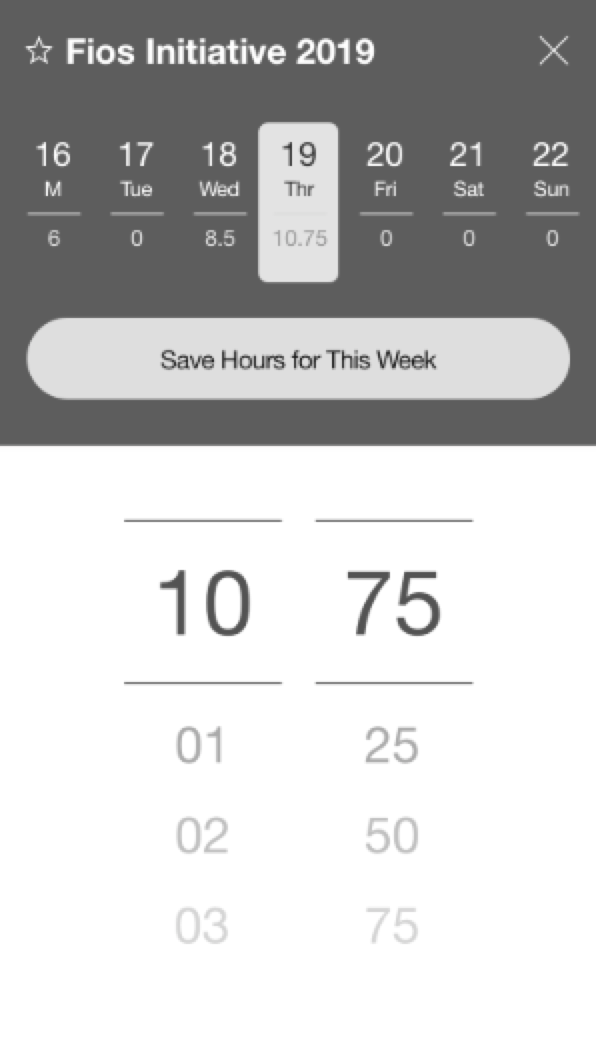 - Authentication (logging in) could be a big barrier for the experience.
- When you visit Reporter on your computer you have log in for each visit. This is in addition to VPN from outside the office. And only on R/GA-issued computers.
- Any near-term mobile web solution would require the same methods of authentication.
Now, the team is focused on solutions that will reduce the amount of times a user needs to log in:
-Everyone remains logged into Slack via their mobile devices (no need for daily authentication)
- R/GAers already love using Slack
- Implementing a Slack solution could be quicker and easier than on R/GA Spaces app therefore, we can launch a solution and learn from it more quickly
- Slack's platform provides tight design constraints
We knew that we wanted to integrate mobile timesheets through Slack but before we dived in, we wanted to see what solutions were currently out there. 

Why We Should Pursue A Custom Solution
- 
While these apps are great, they are limited - we need an all-in-one type of system. The mobile timesheet system we need needs to have capabilities that include the ability to submit timesheets daily or weekly and t
he ability to compensate for those who are on many projects
What We Can Learn From These Apps
- Nikabot - a simple UI to submit hours
- Quidlo - daily or weekly reminder to fill out timesheets 
- Harvest - a time tracker to submit hours accurately
We launched a survey through Slack to each respective R/GA office's Slack channel with the intention to learn more about the timesheet behaviors of R/GAers. 


R/GAers are not prioritizing time to fill our their timesheets. 
- 41% of R/GAers do not take the time to do their timesheets regularly. About half of those people feel that there's not enough time in the day. The other half simply get distracted or exhausted by other work.
Tracking allocations with calendars with timesheets can feel overwhelming.
- The responsibility is on the individual to do the math between their expected allocations, the actual time they spent working, and to record it all. 30% of unprompted responses were focused on the ability to cross-reference allocations while filling in timesheets.
- Of the R/GAers submitting their timesheets daily or weekly, most of them credit reminders as the trigger to submit on time. Reminders come in many forms: setting up personal calendar settings in Outlook, an email from a watchful producer, and even Monday-morning messages from @rgabot on Slack.

Users should be able to set their own reminders with the Slack bot (daily, weekly on Fridays, weekly on Mondays).
There are some timesheet tasks that we may not be able to solve in Slack. Our primary goal is to make regular time entry easier, simpler and ultimately increase timesheet accuracy and compliance across R/GA.
Features of the Bot versus Web
Our goal is to make time entry simpler, easier, and more accessible across R/GA. Not all features available in Timesheets on the web are necessary within the Bot.
Features available in both the Bot and Web
Features available only in the Bot
Features available only in Web
- See hours against allocated projects
- See non-client related activities
- Enter time against allocated projects and non-client related activities
- See current and previous timesheets (days and weeks)
- Save edits to timesheet
- Submit the week when it's complete
- 

See approved PTO hours by day
- Enter PTO hours for approval
- View PTO status (allowed, used to date, pending approval, etc)
- Report errors with previously approved PTO requests
- Receive notifications daily or weekly to remind you to complete your timesheet
I created the following wireframe flows to provide a comprehensive look into our mobile timesheet solution.
1. Submitting timesheets weekly
- On the week after it's due
2. Submitting timesheets daily
- Users with many allocated projects
- Filling out a missed timesheet
- Determining reminder preferences
- Editing a previous day in the week's timesheet
- Inputting non-billable hours
- Submitting hours for Saturday & Sunday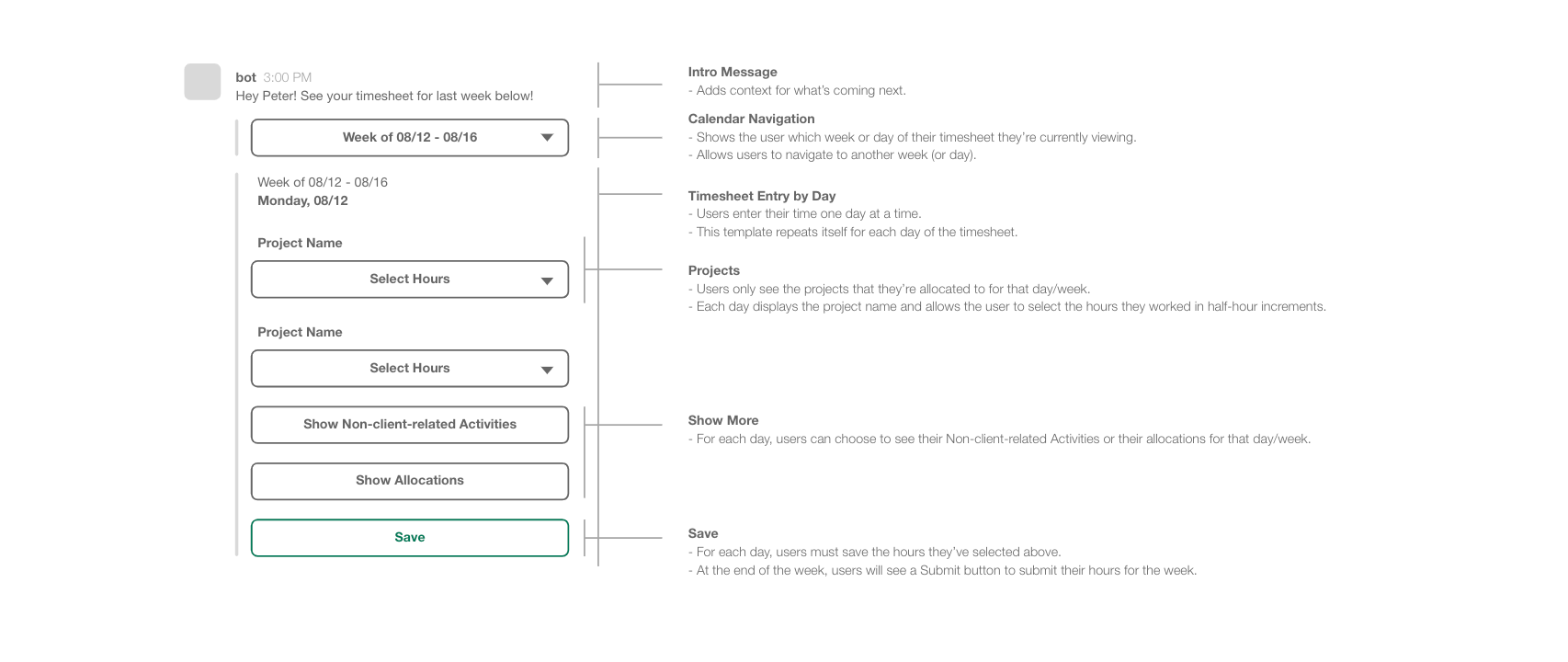 Submitting Timesheets Weekly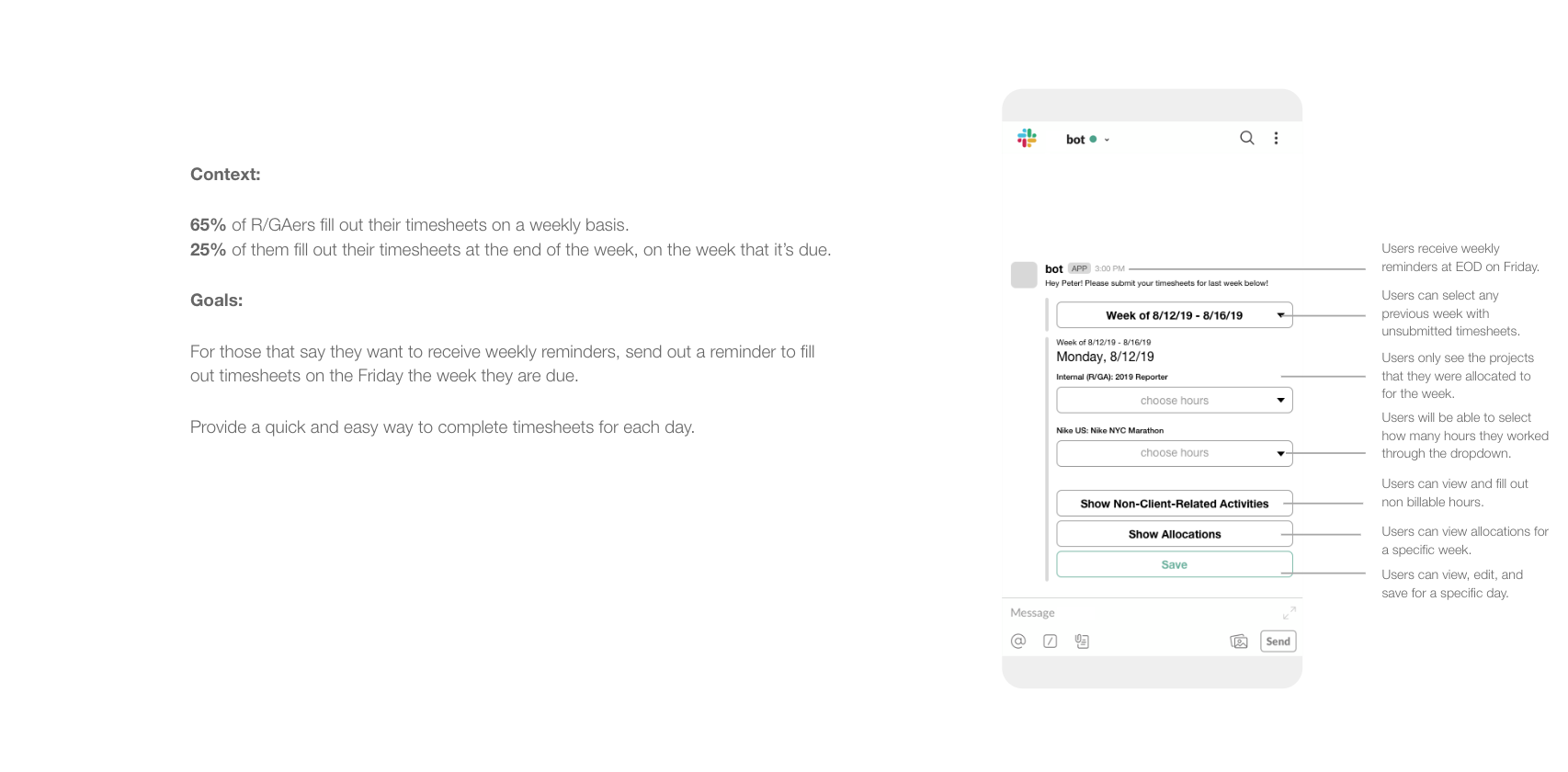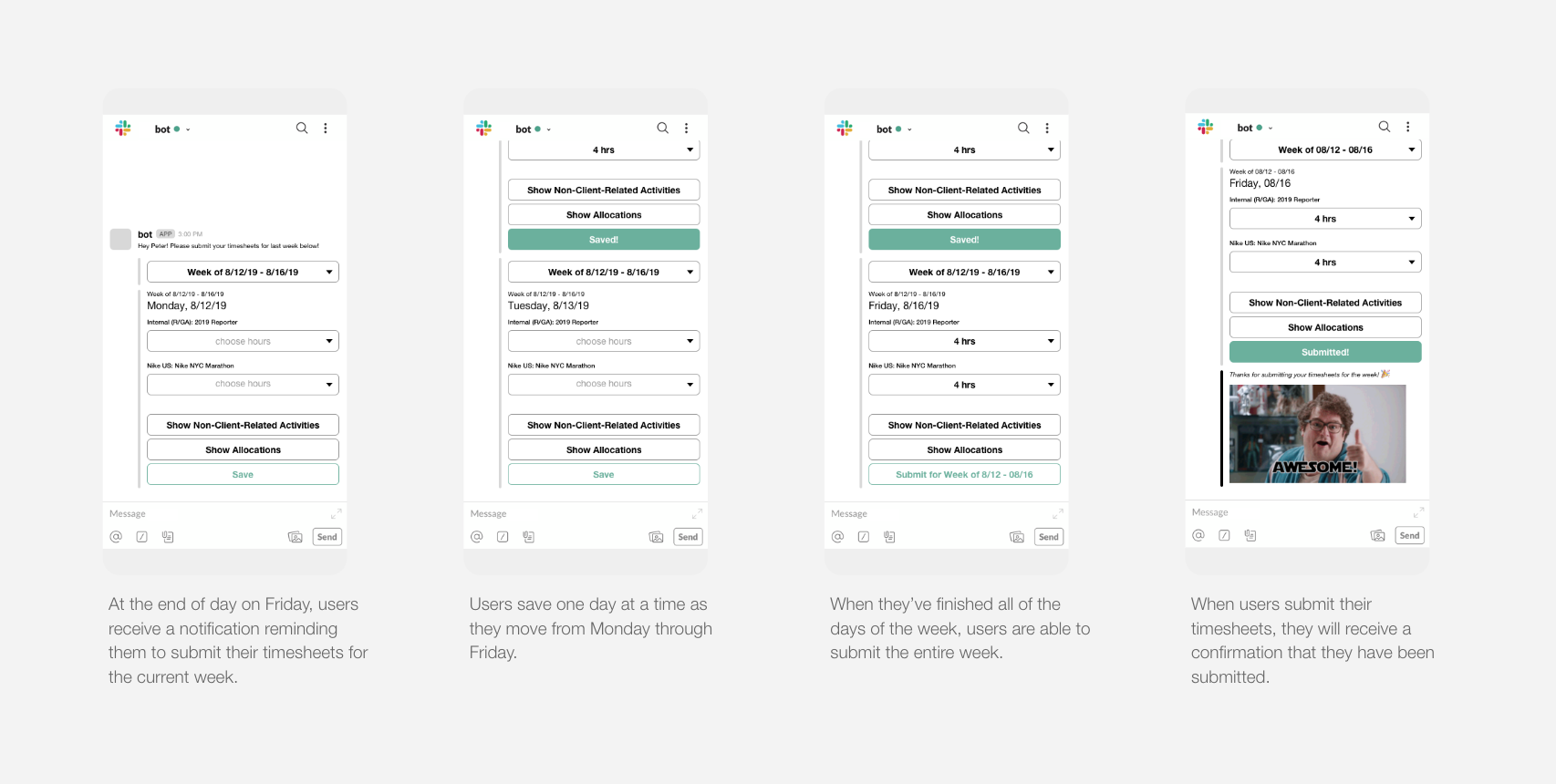 Submitting Timesheets Daily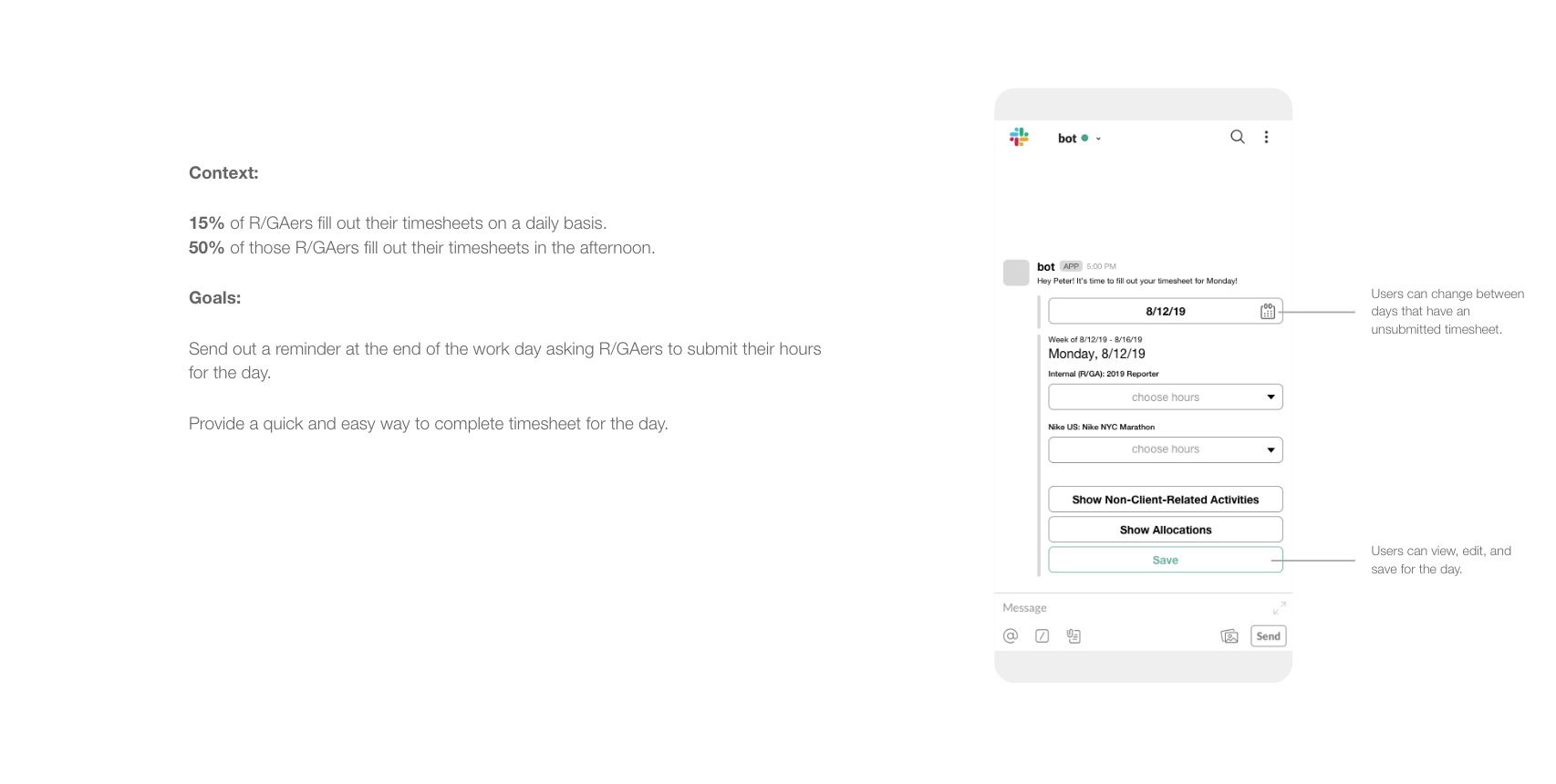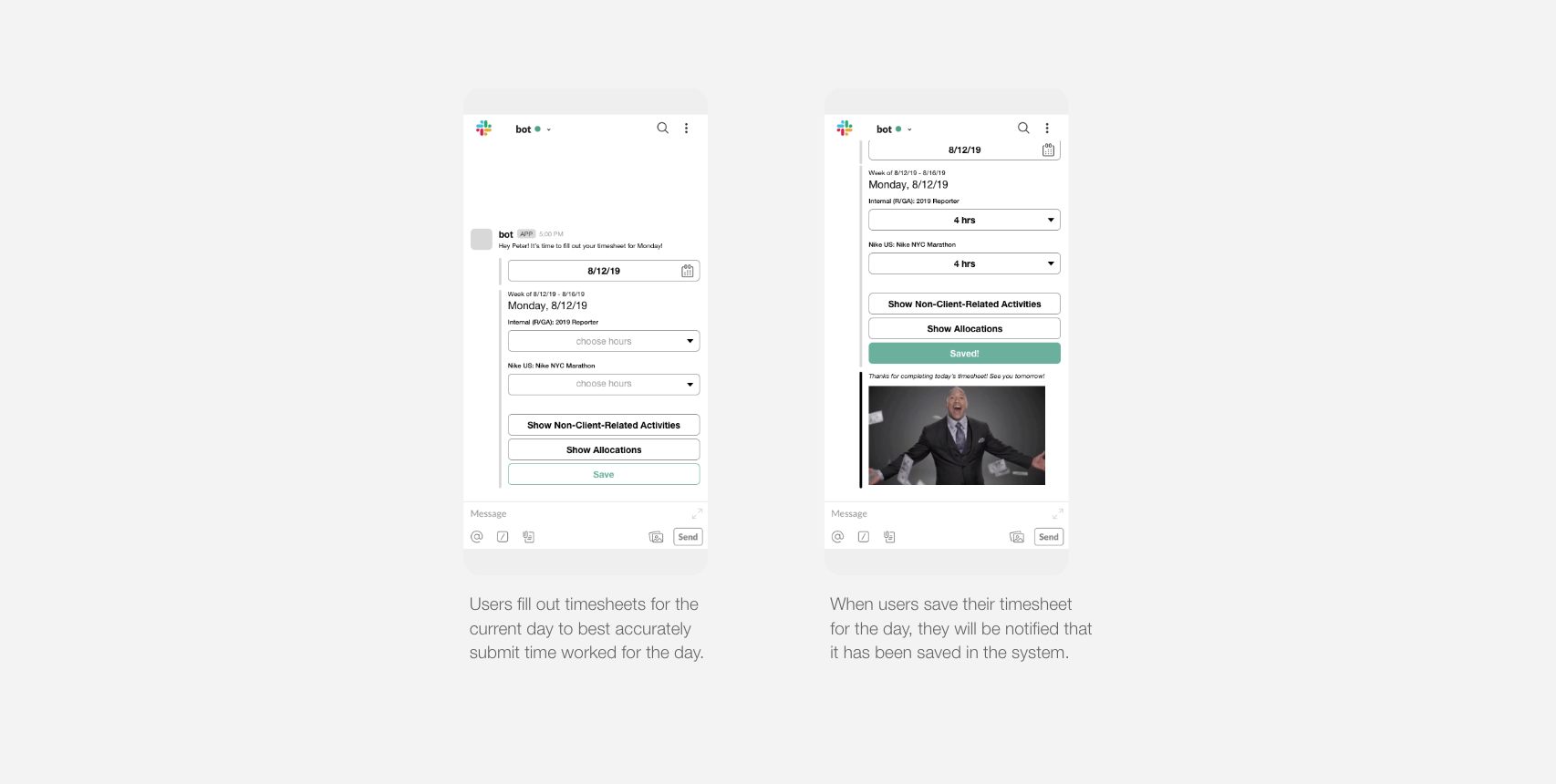 Determining Reminder Preferences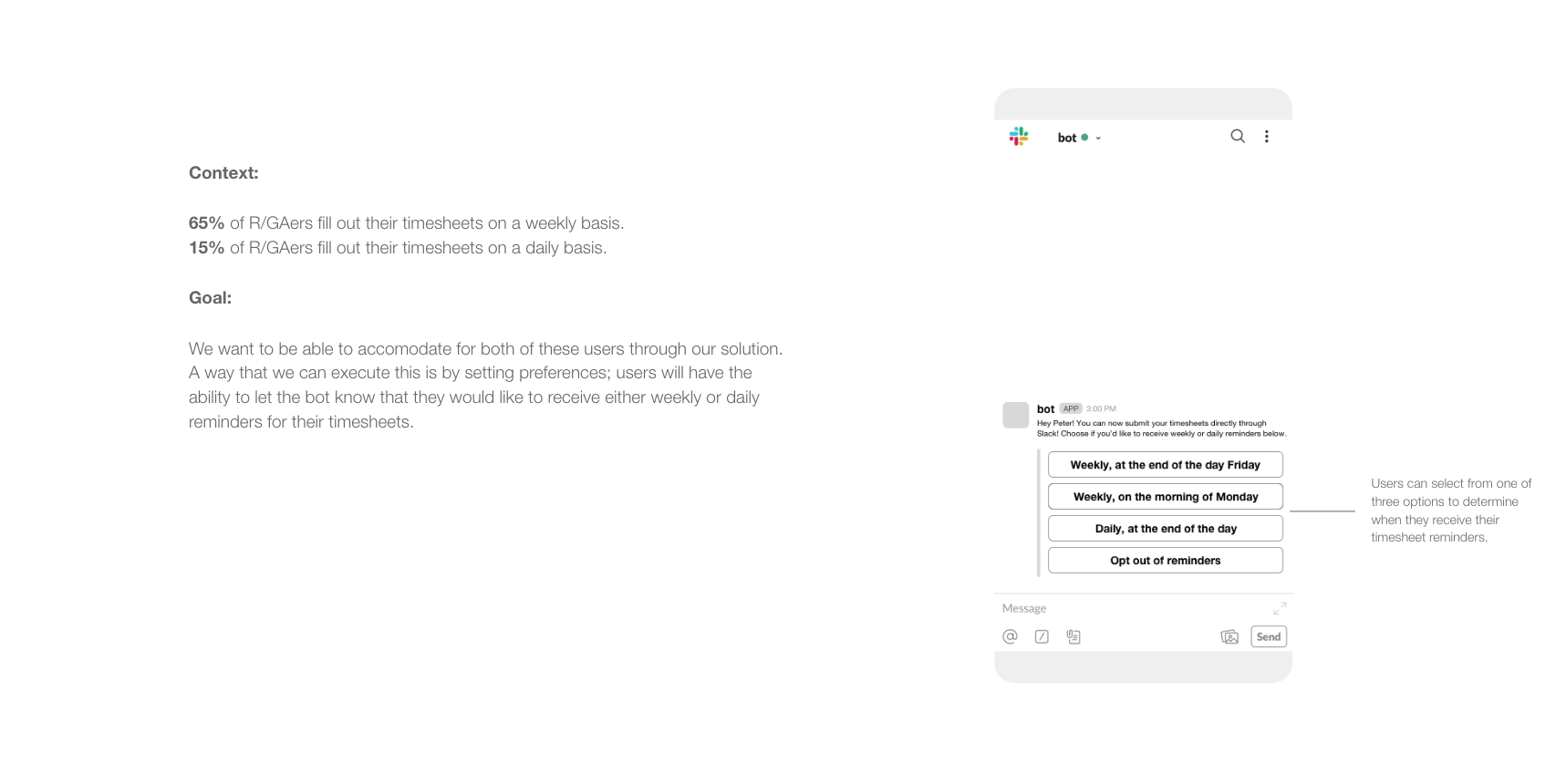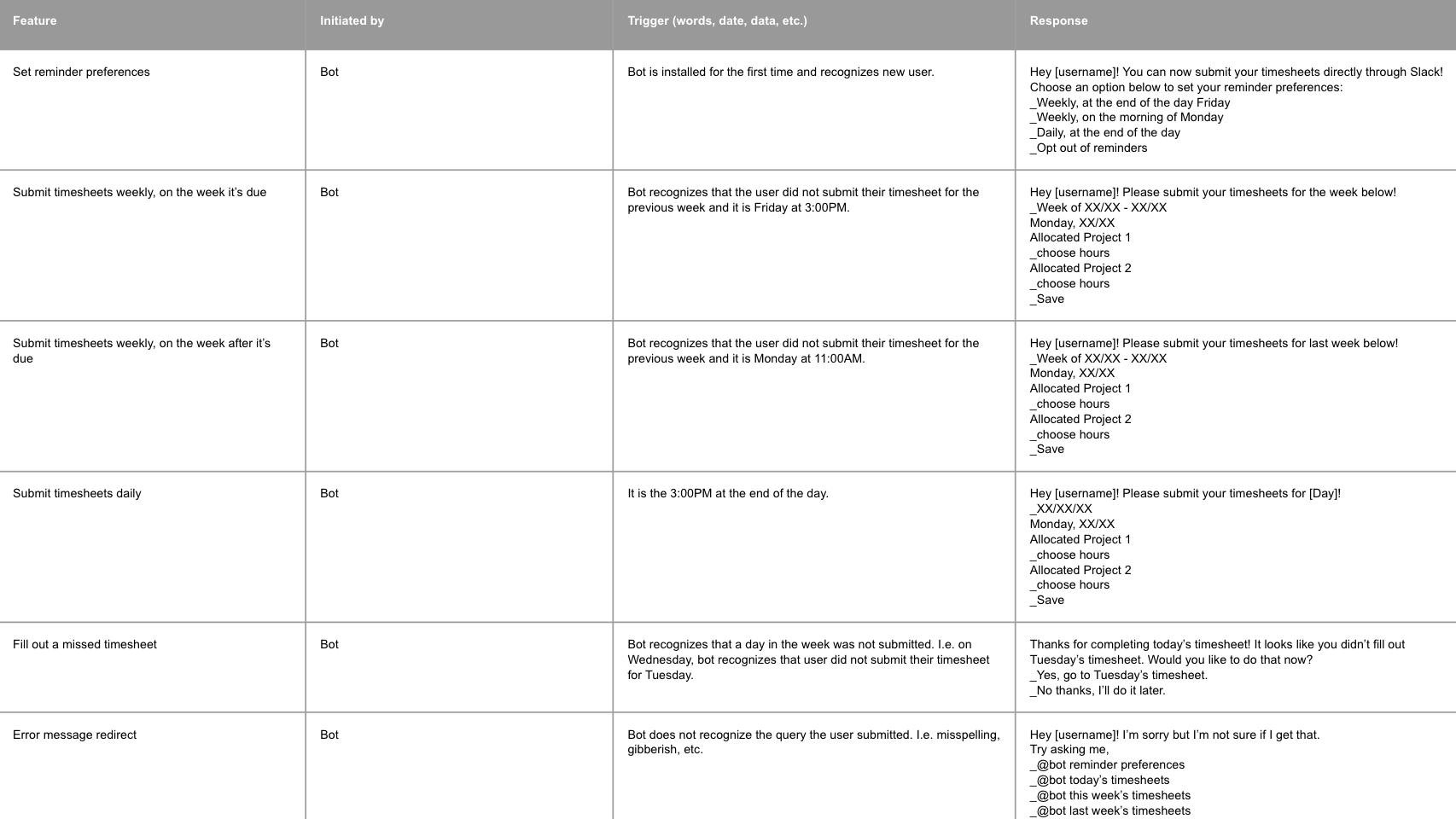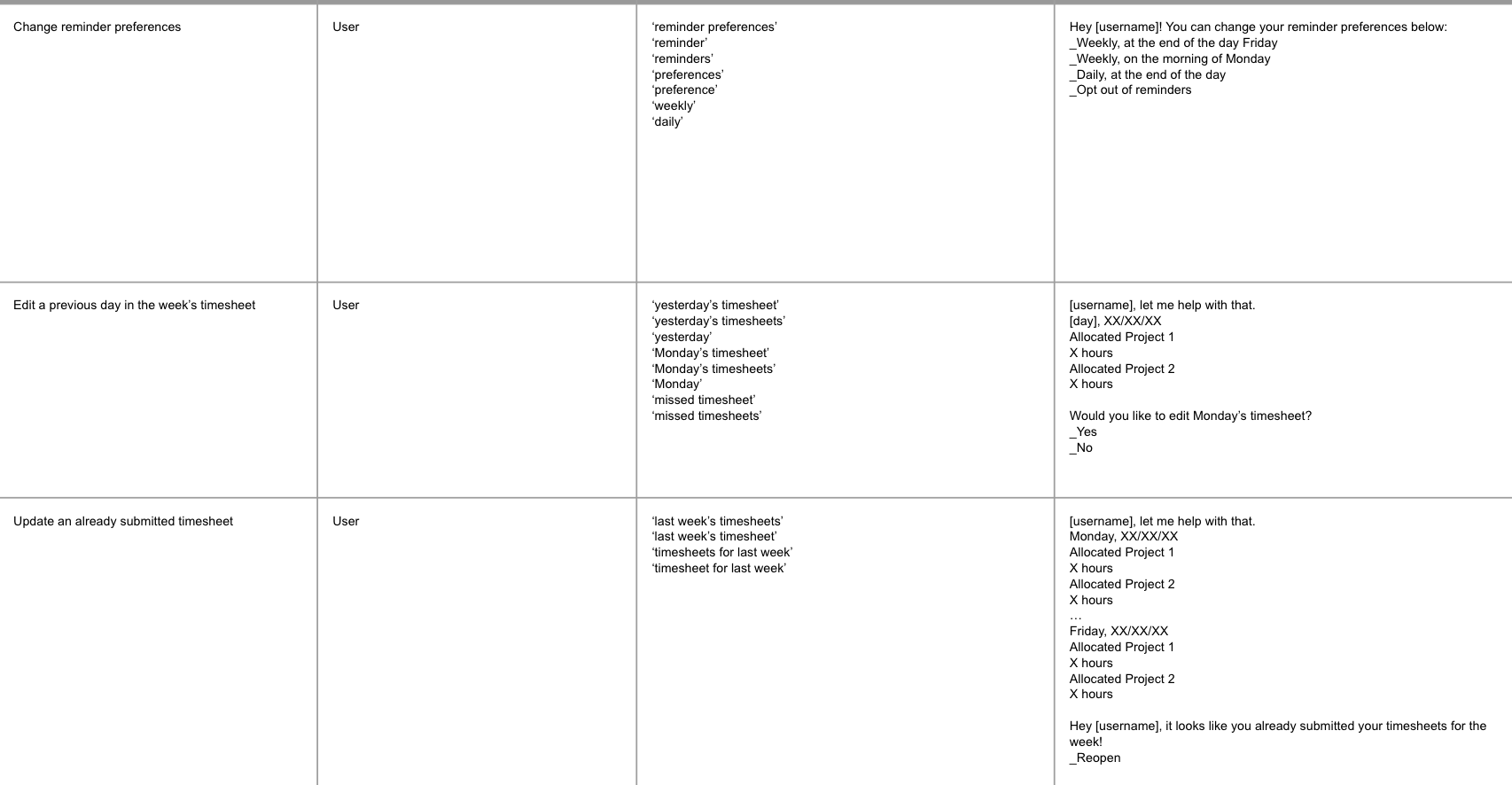 Ongoing Questions to Track
- How many hours do we allow someone to enter per day?
- Look
 into functionality in Microsoft Teams
- If I want to edit just one day from a previously submitted week, is it possible just to re-open and re-submit the day?